The Christmas sparkle was on full display at LinkAge's annual Tinsel Walk and Volunteer Christmas Party that took place at St Michael's and All Angels Church on the chilly afternoon of 9th December. The party is organised every year by LinkAge to give thanks to all our hard working volunteers, without whom LinkAge would not be able to operate so effectively in the Bedminster & Southville area.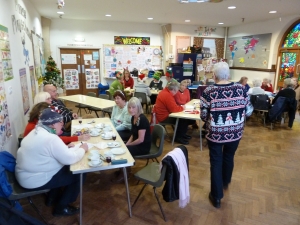 Prizes were up for grabs for the quirkiest earrings, hat or accessories so there was a dazzling array of Christmas themed accoutrement. The winner was chosen for her festive up-cycled hat that had been self-stitched with seasonal items. Everyone, however, made a huge amount of effort and looked fantastic possibly apart from Dan Lewin, the LinkAge Community Coordinator, who had a turkey on his head! You had to be there…
As well as mulled wine and a festive spread, the party included a themed quiz from quizmaster Margi Johnson and an amusing collective drawing game. Again, you had to be there! LinkAge would again like to send out a huge thanks and Merry Christmas wishes to all its volunteers in Bedminster and Southville for all their hard work.