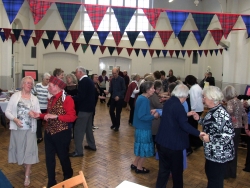 The Redcliffe Hub Advisory Group are delighted to be teaming up with the St Mary Redcliffe and Temple School Swing band, for an Afternoon Social.

Faithspace Community Hall will be opening its doors on Tuesday 15th March from 2pm. The schools Swing Band has already delighted many at the School Christmas Party and so it guarantees to be a fantastic afternoon.

Tea, cakes and raffle prizes will be on sale to raise funds for the St Mary Redcliffe Church Lent Appeal – Changing tunes, who take live music into prisons.

There is no need to book on the day. Doors will open at 2pm and everyone is welcome to attend!

So to donate raffle prizes for this event, please contact Hannah Currant on 07904 096 544. Or to find out more about Changing Tunes, please click here.