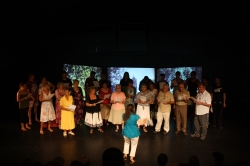 The Stockwood Happy Notes Choir was delighted to be asked by the Bristol Old Vic outreach department to take part in their intergenerational 'Truth About Youth' project for the Prince's Trust.
Over a period of 3 weeks, the Happy Notes met with nine 16-25 year olds who are not in education or employment, and the Bristol Old Vic creative team. As well as singing together, the choir shared their memories of Bristol with the young people, and many of their stories were featured in the final performance, "Smoke and Bridges".
The choir were very proud to attend the performance in the Bristol Old Vic Studio and were invited on to stage at the end of the performance to sing some of their favourite pieces. The Happy Notes would like to wish all the young people involved 'Good Luck' in their search for employment and all best wishes for the future.