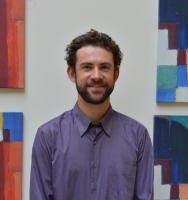 Hello! My Name is Dan Lewin and I have just started as the new LinkAge Community Coordinator for Bedminster, Southville & Stockwood. I am extremely excited to be starting in this post as I am passionate about working with older people to help reduce social isolation and loneliness and improve physical and mental wellbeing. I am also passionate about increasing the resilience of Bristol communities and know that LinkAge's work has a huge impact in both these areas. My work in this area began last year when I volunteered for North Bristol Advice Centre as a Care at Home Support Worker. This work involved visiting older people in their homes to support them to continue to live independent, happy and healthy lives.

Previous to this post I have had a very varied career. I originally worked in marketing and first got involved in the charity sector working for a small Bristol charity called Temwa, who run community development projects in Malawi, Southern Africa. After working in the international development sector for 8 years and developing a specialism in sustainable agriculture I had a shift of career focus, wanting to make a difference closer to home. I originally began working for local community growing projects in Bristol including The Community Farm and Avon Wildlife Trust's Feed Bristol project. This was in various roles including as a grower and business development officer, before I got a job on a Bristol City Council sustainable transport project as a Sustainable Travel Advisor. This was the role I left to join LinkAge.

I am very much looking forward to working alongside LinkAge's dedicated team as well as the older people of Bedminster, Southville and Stockwood in the delivery of older people-led activities. I very much hope I can continue the good work done by my predecessors and hopefully develop to work where possible to cater best for the needs of older people in Bristol.