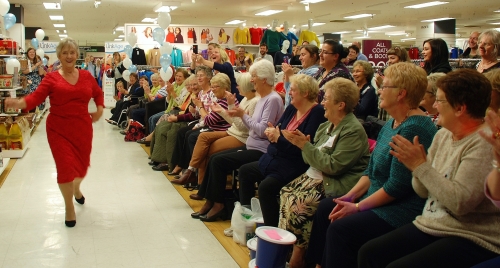 On Tuesday 22nd October we celebrated an exciting new partnership with BHS, who have selected LinkAge as their local charity of the year. To launch the partnership we hosted a fundraising fashion show in the Broadmead branch of the store.
The fundraising fashion show featured the BHS Autumn/Winter collection, with 11 of our local 55+ participants modelling the clothing. The Lord Mayor attended the event, welcoming guests upon arrival and local radio station South Bristol Community Radio DJ'd live at the event, mixing hits from Bruno Mars's Uptown Funk to Taylor Swift's Shake It Off.
Cheering, singing and clapping could be heard from the enthusiastic crowd of family, friends and supporters of LinkAge who welcomed the first model of the evening, local Henbury kurler Marilyn to the catwalk. She was soon followed by 10 of our other models, who each brought a unique walk to the runway, some choosing to dance and others choosing to make the most of their coats as props. A trio of LinkAge participants closed the show with line dancer Rose, advisory group member Barbara and walker Kelvin, strutting their way into the finale.
LinkAge model Kelvin said, "The fashion show was a really fun opportunity for me to meet other LinkAge participants and be part of LinkAge as a whole. As my wife said, it was a chance for me to 'show off again', which is allegedly something of a history."
LinkAge model Betty said, "I can't say I wasn't nervous, but as soon as I saw my friends cheering me on, I couldn't stop laughing. It was just an all-round enjoyable experience, I loved it."
Claire Miller, CEO of LinkAge said; "It took some of the models a lot of courage to walk down the catwalk, but they did and they were all amazing and absolutely stunning! The atmosphere was fantastic and this whole event has only been possible because of the help and support from BHS and local businesses. It really shows what can be done when we all work together!"
We would like to thank the talented City of Bristol College hair and make up students who made sure the models felt extra special walking down the catwalk. Local businesses Supercuts, Bristol Aquarium, Great Western Railway and at-Bristol Science Centre for the amazing raffle prizes that they donated.
The money raised at the fashion show will help us to continue to reach out and engage older people in activities across Bristol. And watch this space, we might have a fashion show coming near you very soon!