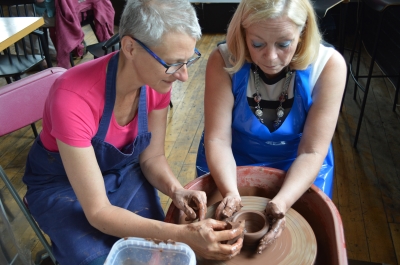 Thanks to a Bristol Ageing Better Kickstart grant, St Monica Trust will be running two new 'Clay Explorations' courses in Bedminster and Stockwood during July and August.
During the sessions clay will be used in different ways to build up a basic knowledge of the possibilities of this material. Individual and collaborative activities will promote interaction and group cohesion as well as individual confidence. Simple techniques will enable participants to engage in new physical and cognitive skills, or to revisit skills they might have used at some time in their lives. Hand massage and movement will initiate each session to increase mobility.
During the course participants will gain an understanding of the process of completing a ceramic piece – from plastic clay to permanent fired article.
The courses are spread over 8 consecutive weeks with one session per week. Sessions will be 2 hours' duration. The group size will be up to 12 participants on each course. Further details of the courses are below:
Bedminster
When & Where: 8 weekly sessions starting on Tuesday 4th July 2017, 3pm-5pm, at The Elephant House, 1 Dean Lane, Bedminster, BS3 1BG
Cost: £35 for the course payable at first session (please call if cost is prohibitive for you)
Contact: Please call St Monica Trust for more information – 0117 305 2365
Stockwood
When & Where: 8 weekly sessions starting on Wednesday 5th July 2017, 9:30am-11:30am, at Stockwood Free Church, Ladman Road, Stockwood, BS14 8QH
Cost: £35 for the course payable at first session (please call if cost is prohibitive for you)
Contact: Please call St Monica Trust for more information – 0117 305 2365