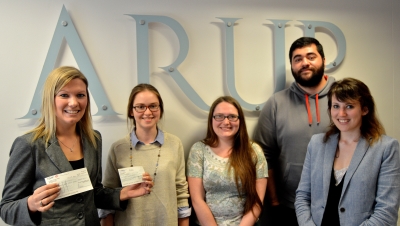 LinkAge would like to say a big thank you to Arup Bristol for raising £9,484.08. Arup Bristol kindly chose LinkAge as their Charity of The Year for the financial year 2016/17.
Over the past year Arup has undertaken a number of staff fundraising activities to raise money for LinkAge, including a Golf Day, regular office tuck shop, tomato plant sale, computer sales, Christmas fair and football screenings. A team from Arup also participated in the Bristol Half Marathon.
In addition to the above fundraising activities Arup also kindly donated 6 desktop computers to LinkAge, which were given to The Beehive Centre in Whitehall and St George, to be used for their computers courses for over 55's. At Christmas staff also donated a Christmas Hamper full of treats, which were given out to isolated older people involved with St Monica Trust's Befriending Scheme.
Phil Wood, Arup Bristol's Office Leader said, "We, at Arup in Bristol, are very proud to have supported LinkAge as our office charity for 2016/17. Our staff have worked tirelessly to plan lots of great fundraising events throughout the year and we're delighted that the money raised is going to help fund such important work in the local Bristol community."
Lucy Saunders, LinkAge's Business Relationships and Funding Manager said, "We are so grateful to Arup Bristol for raising such a huge amount of money for us. We are still completely overwhelmed by the total and so grateful for all their wonderful support over the last year. The money raised will help LinkAge to enrich the lives of older people living in Bristol, reduce isolation and loneliness and promote active participation in local communities."
*Photographs (L-R) Lucy Saunders from LinkAge and Charlotte Brown, Anna Beckett, Amir Issazadeh and Karen Wakeham from Arup Bristol.