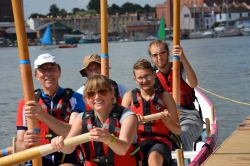 Due to high demand, the Summer of Age 2016 kicked off early this year, allowing over 8 weeks of activities to take place in areas from Avonmouth to Ashton Vale and Stockwood to St George.
After the success of last year's programme, 2016 saw us work with new partner organisations, alongside those we have worked with previously. These partnerships do not just take place in the summer, but throughout the year, creating a platform to build future projects together.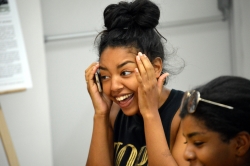 This year saw us once again work with both Young Bristol and Youth Moves, supporting them with their National Citizen Service scheme that they run across the City. Each young person received a 1 hour interactive workshop on isolation and loneliness, and challenging stereotypes of ageing. Nearly 200 young people were then paired into groups of 15 and tasked with delivering a community activity with groups of older people. Activities ranged from IT sessions, exercise classes, crafts, photography and history. 5 groups then went on to choose LinkAge as their social action project and either fundraised, ran activities or promoted the charity for week 3 and 4 of their programme. By the end of their project, the 5 groups had managed to raise over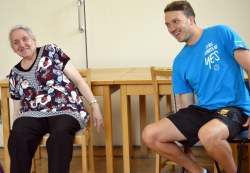 £300, arranged for 5 table tennis tables to be delivered to local community groups, run a cake sale, do a 10k run (on the hottest day of the year!), plan a day trip for a craft group and plan a community fun day. On behalf of the older people, we would like to say a big thank you and well done to the young people, for all of their hard work over the summer!
Clifton Suspension Bridge Trust was our first new partner of the year. Activities including an over and under walk took place, taking a trip down into the vaults of the suspension bridge. Another new partner for this year was Bristol Shopping Quarter, who invited LinkAge to deliver sporting activities in Broadmead and take part in the Tour of Broadmead. Along with members of the public, we were able to cycle 268km on static bikes, nearly 100km more than our target distance.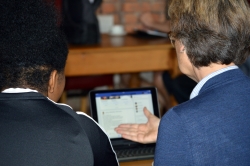 2016 saw a few firm favourites return for yet another year. iTea4U was on offer across the city, giving older people the opportunity to have 1 to 1 support for their technology requests. New Age Kurling, Clubs for All Ages, Watersports, Crafts and a Wildlife Walk also returned to local communities. With such a huge variety of activities on offer this year, there really was something for everyone.
This year the summer finished with a Fun Day at Broad Plain Youth Club in Easton. The day saw a variety of activities take place including indoor climbing and the ever popular bouncy castle. We were joined by Base Radio who played music throughout the event and also had refreshments provided by Pieminister, who through their 'Little Acts of Pieness', donated pies to feed the hungry mouths.
Over the last 3 years we've had over 1,800 attendances to 150 activity sessions. We've engaged with participants aged from 9 months to 95 years old and delivered workshops to nearly 400 younger people. With plans already beginning for what will be an even more exciting summer next year, we hope to work with more groups across the city, giving even more people the opportunity to come together to share skills, knowledge and experiences, but ultimately, make Bristol an even better place to live.