Sharing the joy of singing:
LinkAge arranged for the MX elders singing group (Golden Oldies) to visit Blaise Court, Lawrence Weston to encourage the residents there to share the joy of singing (and dancing) to popular songs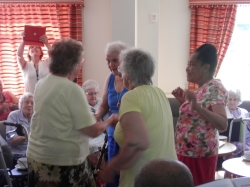 LinkAge were delighted to make the idea of one of the Malcolm X elders into a reality, by arranging the first of what we hope will be many visits, to other elders groups and residential settings across Bristol.
On Friday July 25th fourteen MX Elders boarded minibuses and sped off for a lunch date with the Blaise Court residents in Lawrence Weston.
Joining them was Charmaine, the groups Golden Oldies singing tutor. Also on board were Tom and Joff, the Biggerhouse film makers who are currently making LinkAge's film 'Get Up Stand Up' to be launched at the M Shed as part of the launch of the Celebrating Age Festival. The filming began as we left St Pauls, capturing the excitement of the group.
'Alive' had shared with LinkAge, how enthusiastic the residents at Blaise Court were. We wanted to share the joy that the MX elders demonstrate when they start sing and are often moved to get to their feet and dance. So this visit was to inspire others to join in with the MX elders and have some fun.
Over twenty residents joined the singing group, playing percussion instruments and singing along with Charmaine, the MX singers and Andy the pianist.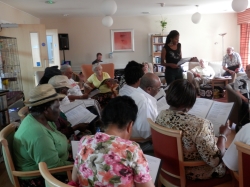 The more we sang, the broader the smiles became and the louder the voices joining in. There was laughter, swaying and arm waving. When we sang 'Lets Twist Again' one of the singers got to her feet and was immediately joined by 3 ladies who left their walking aids behind, to take a trip down memory lane, swinging their hips and singing along.
When the group came to the end of their song list, there were many requests for more favourite songs. We did our best but eventually had to say that it was time to go. Everyone wanted to carry on.
One man said he would love singing every day, another that the group should come every week. The singers were delighted. They too would like to go out weekly and encourage more groups of elders to get to their feet and dance while singing their hearts out.
The next week, Shelagh videoed the feedback from the MX singers and found that they were still buzzing. She then returned to Blaise Court to video the reactions of some of the participants. They were still buzzing too.
We want to provide the evidence to commissioners that singing and dance is fantastically good for health and well being. Everyone, including the staff at Blaise Court agreed that it had been wonderful, a great success and greatly enhanced well being. Everyone wanted to have sessions like that weekly! Everyone wanted to welcome the MX singers back to spark the energy in the residents again.
We are planning another visit perhaps closer to St Pauls in September. Interested? Get in touch with Shelagh Hetreed at Linkage 07867 500 583