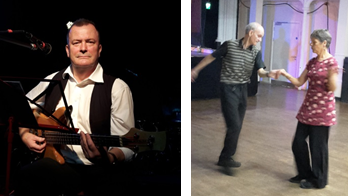 "Best band and best music we have ever had" "I really enjoyed myself" "You can see everyone is having fun, look they are all dancing"
Last Fridays annual 'Celebrate with Dance' event with The Trinity Centre, was once again a roaring success. Regulars could be seen dancing the afternoon away, with many new faces also enjoying the sounds of the local 'Smokey River Band'.
The annual event, which is held in partnership with The Trinity Centre, welcomed over 55's from across the local area to socialise, dance and enjoy some afternoon tea. The event which ran from 1 – 4pm saw the majority of dancers requesting rock and roll, and there were many occasions where no one could be seen sitting down.
The feedback from the day was fantastic, with people expressing that they got more than their money's worth and hope that the Smokey River Band will be back in the future to play at more tea parties.
We'd like to thank The Trinity Centre, for supporting this annual dance, and already we are looking forward to what next years dance brings.