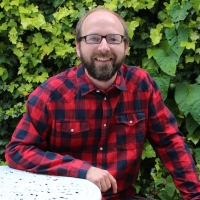 We recently said a heartfelt thank you and goodbye to Tommas Zavattaro, a longstanding volunteer running LinkAge's 'Southbank Film Club'. However, endings always bring new beginnings and we are delighted to introduce our new volunteer, Mike Bingham, to the role. Mike will be running the Monday film club for the foreseeable future and below are a few of his own words about what attracted him to the role and his experiences so far:
"I moved to Bristol in September and recently became involved with LinkAge to put on the weekly South Bank Film Club in Southville. I've got some spare days at the moment as I'm looking for full time work and am not the kind of person that likes to sit around the house all day, so this volunteer opportunity sounded ideal. I love films too and particularly showing them on the large screen for the proper experience. In Oxford I used to put on a film night in The Porch Steppin' Stone Homeless Centre and this became very successful. We had 18 members in for the Christmas showing of 'Oliver!' and they loved every minute, singing along to the tunes.
The South Bank Club is a great space to show the films as it has a purpose built cinema with projector, 25 comfy seats, sound system, and a red velvet curtain. For £2 and a free cup of tea or coffee you can't go wrong. Regulars talk about the film club kicking off the start of their week and can't wait to meet their friends and watch a film together. There have been many recent favourites, however, we might have a revolt on our hands next week as a few people are unsure about the animation being shown. I'll be taking along a couple of other options just in case and we'll have a vote beforehand. All part of the fun!"
The 'Southbank Cinema Club' takes place at The Southbank Club every Monday at 2.30pm and is open to anyone over 55. We look forward to rolling out the red carpet for you in the very near future.