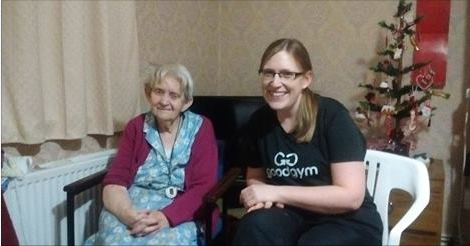 GoodGym Bristol is a community project that combines getting fit with doing good. Since January 2014 they have been pairing up runners with older people in Bristol. The runners drop in and see the older people as part of their regular runs, to give some company or to help with some small jobs such as changing a lightbulb. The older people help the runners by giving them motivation to run.
Alice, 31, got involved with GoodGym in March 2014. After attending group runs for a few months, Alice decided she'd like to make the commitment to get paired up with a coach in her area to visit once a week.
Alice and Brenda have been paired since December 2014.
Brenda, aged 84, has lived in the same house in Bristol her entire life. Brenda worked for a number of solicitors offices in her career before becoming a carer for her mother. Brenda used to have people popping into to see her and her mother very frequently however as she's got older Brenda has found she has fewer and fewer visitors. As a result, she started to feel very lonely.
Brenda says:
"I found out about GoodGym from a local social group at the Southville centre from LinkAge. I'm a very social person which is a trait I get from my Mother. Fewer visits from friends and neighbours over the years has meant I have felt increasingly lonely."

Joan, aged 91, was referred to GoodGym by LinkAge Bristol. When Joan first heard about GoodGym she immediately thought it was a really good idea. Soon afterwards, she was paired with a GoodGym runner called Kim. Joan says:
"I saw hardly anybody. I was housebound having had my knees and hips replaced. I felt very cut off. Having Kim visit me gives me something to look forward to every week, she's lovely. She comes every Monday. It's someone to have a chat and a laugh with. Mind you, she doesn't say much as I'm chatting all the time! We have a good laugh. I would definitely recommend it to other people like me."
Kim, 31, got involved with GoodGym in 2013. Kim was one of the first runners to get paired up with an older person in Bristol.
"I have been running to see Joan for over a year now. We now know each other well and now have a nice little routine! I visit every Monday and when I arrive her little dog Toby is sitting waiting. We slip straight into conversation about anything from the weather to current affairs, and of course about her dog."

To read the full GoodGym articles please click here.