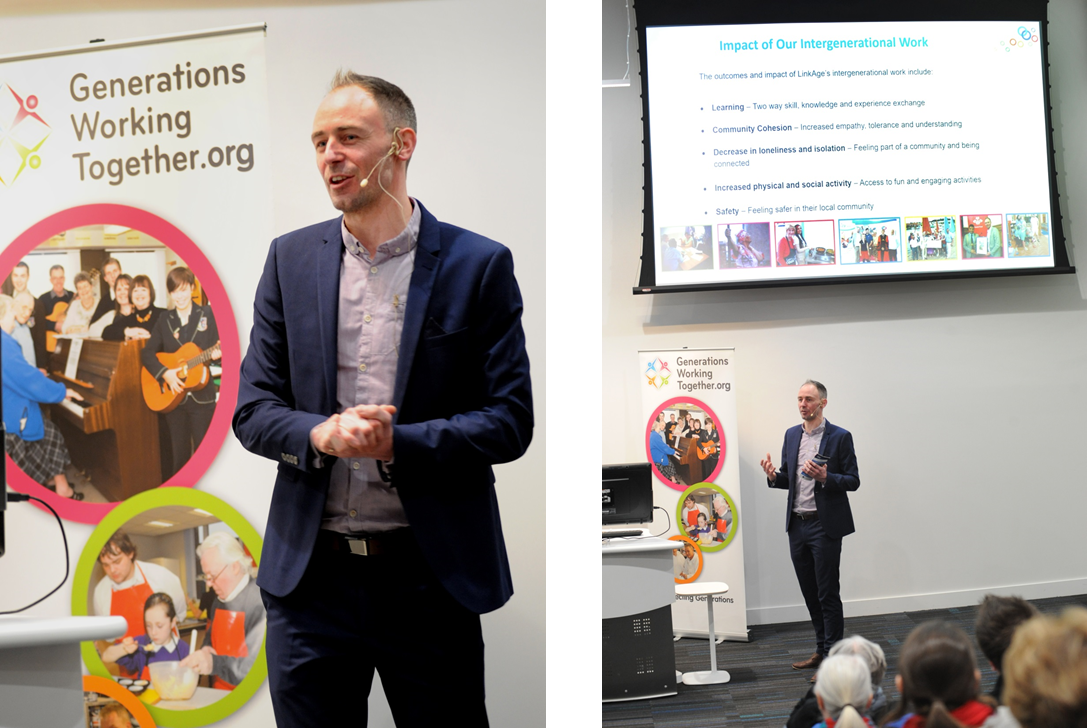 On Wednesday 2nd March, organisations from Scotland, England and Spain attended 'Generations Working Together', an intergenerational conference that looks at the fantastic, inspiring and innovative ways that organisations are working with multi-generations.
LinkAge's Senior Community Development and Intergenerational Worker Ricky Bush, was invited as a key speaker to this year's conference. LinkAge's Senior Development Manager Lucy Saunders, also attended on the day.
'The Summer of Age – Ricky Bush, Senior Community Development Worker (Intergenerational)
This was a great opportunity to share best practice and showcase the unique and innovative model we have created. Ricky opened his presentation with an overview of LinkAge to give people an idea of how our Intergenerational work fits within a charity whose focus is on working with older people. Ricky continued by explaining the 6 pillars of our intergenerational work; Bristol Together, Workshops, career developments of young people, Restorative Justice, partnerships and projects & activities. This went down extremely well and included an interactive flavour of the workshops we deliver with young people but also the impact these have on individuals. There was then a focus on the Summer of Age project to give people an overview of what the project is about, how we deliver it but also how people can become involved in the future. This went down very well and has raised some interest from other groups across the country.'
The conference was a brilliant opportunity for LinkAge to be able to share best practice, but also learn from others across Europe. It was great to be a part of a day that saw so much knowledge and enthusiasm in a single room and we look forward to working with other organisations from the conference in the future.
To read the full report click here