Bristol based charity LinkAge have joined forces with Macmillan Cancer Support to help older people affected by cancer in the Bristol area.
LinkAge works with people aged 55+ and local communities to facilitate inspiring social activities that enrich lives, reduce isolation and loneliness and promote active participation. We aim to encourage older people to become active citizens taking part in their local community and most of all, having fun.
Macmillan's pledge of significant funding over the next three years will now enable LinkAge to offer more opportunities and support specifically tailored for those affected by cancer. This includes a designated project manager to implement and embed the work, act as a Macmillan champion and link in with other local services.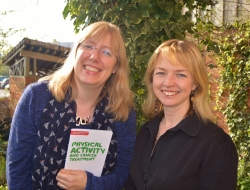 Claire Miller, Chief Executive at LinkAge said; 'LinkAge is delighted by Macmillan's vote of confidence in our nationally recognised approach to working with older people. We know that being involved in activities and staying physically healthy can reduce many of the symptoms of cancer, aid recovery and reduce the risk of recurrence. The investment from Macmillan shows they really understand our preventative and re-enablement approach, and we look forward to working closely together in partnership.'
Macmillan Development Manager for Bristol Maggie Crowe said; 'Working with LinkAge is a great opportunity to combine expertise on supporting older people and those affected by cancer. By joining forces we can ensure more over 55's in Bristol won't have to face cancer alone, and can access physical activity and social community groups which are so key for good health and wellbeing.'
Anne Wilkinson has already been recruited to the project manager role, and volunteers have completed training on cancer specific support and awareness.
Anyone wishing to be referred into the scheme can do so directly by contacting Anne Wilkinson on 07841 921 221 or annewilkinson@linkagewestofengland.org.uk, or by asking a health professional.
No one should face cancer alone. For support, information or if you have any questions about, call Macmillan Cancer Support free on 0808 808 00 00 (Monday to Friday, 9am–8pm) or visit www.macmillan.org.uk.