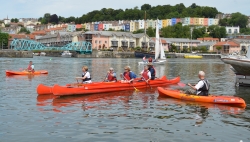 Come and feel the freedom of the water by trying rowing, canoeing, kayaking, sailing and our wheelchair accessible powerboat on Saturday 9th April.
LinkAge and AllAboard! Watersports will be holding a FREE open day for over 55's from 10am – 3:30pm. It will be a great opportunity for you to look around the centre, meet the staff and also meet 'The Barnacles', our over 55's group.
No need to book | Refreshments available | All equipment provided | Bring a change of clothes
To find out more please call 0117 929 0801.
AllAboard! is based at the Baltic Wharf, Cumberland Road, BS1 6XG.