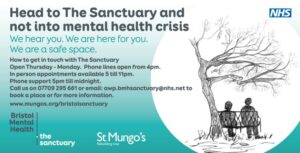 WE HEAR YOU.  WE ARE HERE FOR YOU.  WE ARE A SAFE PLACE.
Somewhere to come at the weekend when you are in emotional distress.
The Sanctuary is a safe space to come for support when you can no longer cope, or are feeling very alone. We offer single session support on an ad hoc basis for people struggling with severe emotional distress.
We will work with you as an individual to try and find some balance. Sessions are by appointment only.
Please call us during opening hours where we will take you through a brief telephone assessment to understand your needs before a session can be allocated. Appointments are up to one hour and 30 minutes long.
Call or email between 5pm to midnight, Thursdays to Mondays to book a place or for more information.