Dementia-Friendly Gardening at the Allotment, Brentry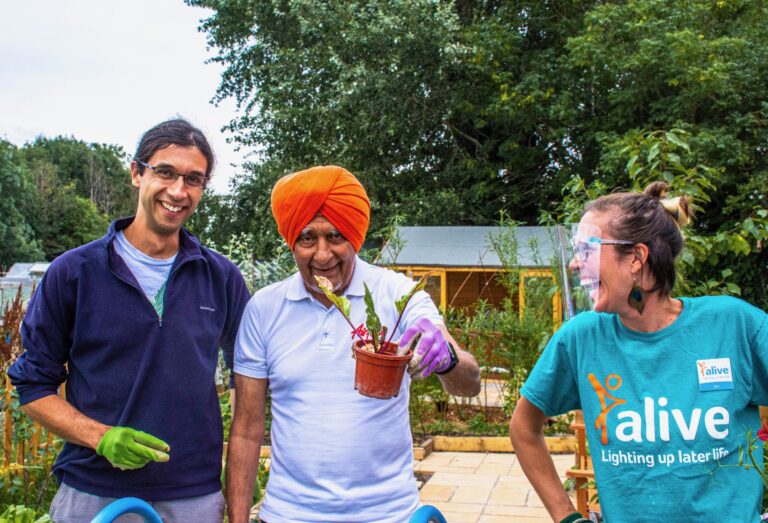 Alive has a community allotment in North Bristol where we offer supported gardening and socialising sessions for older people and for people living with dementia.
Alive allotments give you and your loved ones access to the therapeutic and social benefits of having an allotment, without the pressure of having to visit it every day to keep it maintained.


Alive has been running gardening sessions for older people and people living with dementia for almost ten years now, so we have first-hand experience of the positive impact gardening can have on a person's health, both mentally and physically.
While at the allotment, participants may work on any personal projects or do activities set out by one of our horticultural therapy experts. Trained volunteers will be on hand to assist if required or to chat with if not.
The allotment is fully accessible, has a social shed for shelter when the elements are against us and a compost loo. At the end of every session, there will be a chance to reflect on what we've achieved, make plans for future growing projects and, most importantly, drink tea!


During summer, sessions run at the allotment every Monday and Tuesday, from 1.30 till 3.30. During winter we are only at the allotment on Tuesdays.
The Monday allotment sessions will be open to anyone in the community living with dementia, as well as their carers. Visiting with your loved one, you will have the opportunity to meet fellow gardeners and their carers.
The Tuesday sessions are open to any older person who wishes to come along and get stuck in, either on their own or with a friend or relative.
Throughout the year, the group will share the fruit, vegetables and flowers we grow.


You may book a place on any of our sessions using the form linked below.