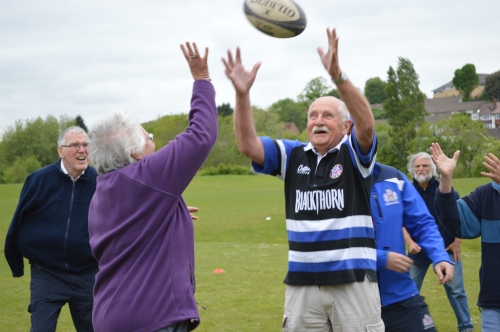 Active Ageing (Bristol) is the ground breaking new project set up to transform attitudes to, and opportunities for, sport and physical activity in over 55's.
As we get older, we are far more likely to be inactive, with a large number of older people doing less than 30 minutes of physical activity a week and *two fifths of older people saying that their television is their main form of company.
Research shows that keeping as active as possible is good not only for your physical wellbeing, but also your mental health, helping to reduce the risk of depression, heart disease and dementia, increase your social networks and reduce the risk of becoming isolated and lonely.
Karen Lloyd, Programme manager for the Active Ageing (Bristol) project, will be looking to implement a framework and strategy for the development of sport and physical activity for those aged 55 or over, across the greater Bristol area. She will be working collaboratively with key strategic partners and providers, to help more local people aged 55 or over to get into sports and physical activity, volunteering and coaching.
This fully inclusive programme which is funded by The Anchor Society, Bristol Sport Foundation and St Monica Trust, with support from LinkAge, will build on existing provisions and develop new opportunities to encourage people 55+ to become and stay active. Everyone, regardless of their age, background or level of ability, should live actively to their fullest potential.
Active Ageing (Bristol) will be launching on Saturday 23rd September 2017 at the annual Celebrating Age Festival which takes place from 10:30am – 4pm at City Hall, College Green.
On the day over 55's will have the opportunity to come and try free activities, including Walking Football, Rugby and Netball, as well as DanceFit and Armchair Yoga. There will also be a gentle 20 minute led Health Walk before lunch and the opportunity to sign up to Gig Rowing taster sessions that are taking place later in the year.
We look forward to seeing you there and hope you will support us to help over 55's 'Get Active, Stay Active, Live Better.'
If you would like to find out more about the Active Ageing (Bristol) project, then please contact Karen Lloyd on 07734 335 878 or email Karen.Lloyd-Pyrke@stmonicatrust.org.uk.
*Age UK 2014 'Loneliness in Later Life' report