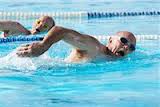 We are delighted to announce that there will be two free swimming sessions for the over 55's at the SMR & Temple school this July.
These sessions will act as taster sessions and if succesful there will hopefully be regular sessions set up for the beginning of the Autumn term.
The swimming sessions will be taking place on Wednesday 1st & 15th July at 10:15am. Those wanting to attend should report to the Visitors Reception at the school.
We would like to thank St Mary Redcliffe and Temple School for offering this to the community at no cost!
If you would like further information on this activity and others in the Redcliffe area then please call 0117 929 1487.