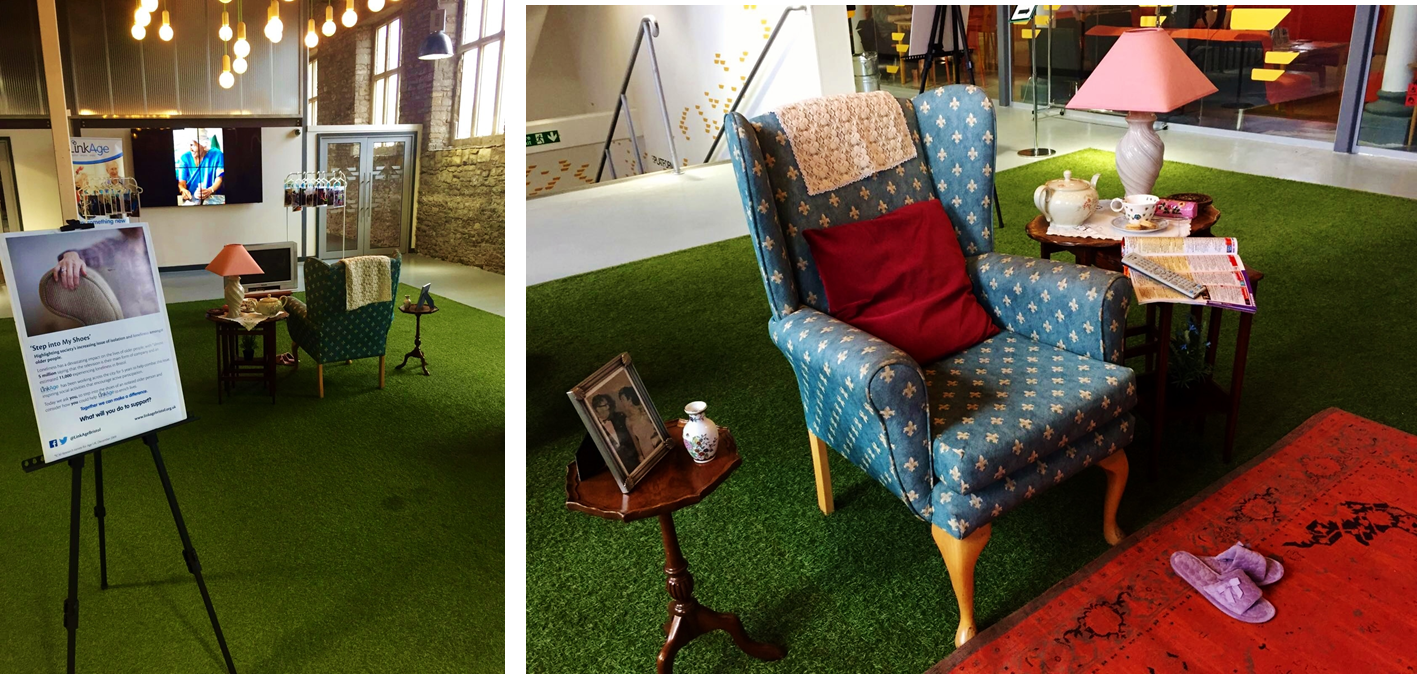 As a local Bristol charity that works with thousands of people 55+, LinkAge is all too aware of the devastating impact that isolation and loneliness can have on the lives of older people. To highlight this increasing issue, LinkAge are showcasing their exhibition 'Step into My Shoes', at the Engine Shed.
The Engine Shed has principles of collaboration, promoting technology and steady development, while striving to be a harbour of imagination and inspiration. They have worked with LinkAge, via a contact at Business West, to highlight their important work.
The concept of this exhibition, stems from the statistic that *almost 5 million older people say that the television is their main form of company. With an estimated 11,000 older people experiencing loneliness in Bristol, this is an issue that needs the support of local people.
LinkAge participant Grace Holmes was once someone who used to live a very isolated life and would spend days not leaving her home. Feeling very alone since her divorce and with all of her family living in South Africa, she felt that she only had one real friend in Bristol.
Now two years on, Grace is a changed person. After receiving a programme through her door, offering her the opportunity to get back out into the community, Grace now attends weekly Line Dancing and New Age Kurling sessions, as well as starting her own Monthly Coffee Morning.
Grace said, "[It] changed my life, it makes you happier and more independent. It's taken me out of my shell and brought me out to see the world"
Through the exhibition, LinkAge hopes to not only raise awareness of the effects that isolation and loneliness can have on an older person, but also hope to inspire people to help to change the lives of older people like Grace.
Nick Sturge, Director of Engine Shed said, "core to showcasing the range of tech, creative and low carbon businesses operating in the City is the engagement with people who don't know about or think what we do here is for them. We want to encourage, inspire and inform about opportunities in science, technology, digital, creative sectors and entrepreneurship. We hope the business community will be inspired by what LinkAge do, to relate this to their own communities, their own families and how connectivity, whether it be through smart cities and Internet of Things or making use of a walking group with others, can have a significant impact across Bristol people's lives."
Part two of the exhibition from April, will highlight how LinkAge works with younger people across the city, using their skills and experience in using technology, to help older people feel more digitally, as well as socially, connected.
The exhibition is showing at the Engine Shed, situated next to Temple Meads Station from Wednesday 2nd March to Thursday 28th April, 8:30am to 5:30pm.