2015 saw the launch of an exciting new project Get Online with LinkAge.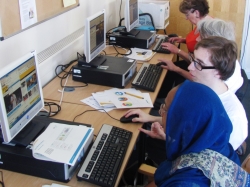 Get Online with LinkAge aims to get those over the age of 55 who are complete computer beginners confident and more independent online. The five week course which is run by volunteers will cover things such as managing shopping, finances, how you can keep in touch with friends and loved ones and more. The project is running across Bristol and currently the courses are based at venues such as the Beehive Centre, Knowle Library and the Tithe Barn.
We are now in February and so far the project has got off to a great start. And due to the success of the project we are hoping as time goes on to run more classes in more areas.
So if your aged 55+ or know of someone who would benefit from this course and would like to find out more information then please contact 0117 935 4471.
Or if you think that this would be a fantastic volunteering opportunity and would like to find out what areas we are currently working in then please also contact 0117 935 4471.