Shirehampton High Street Market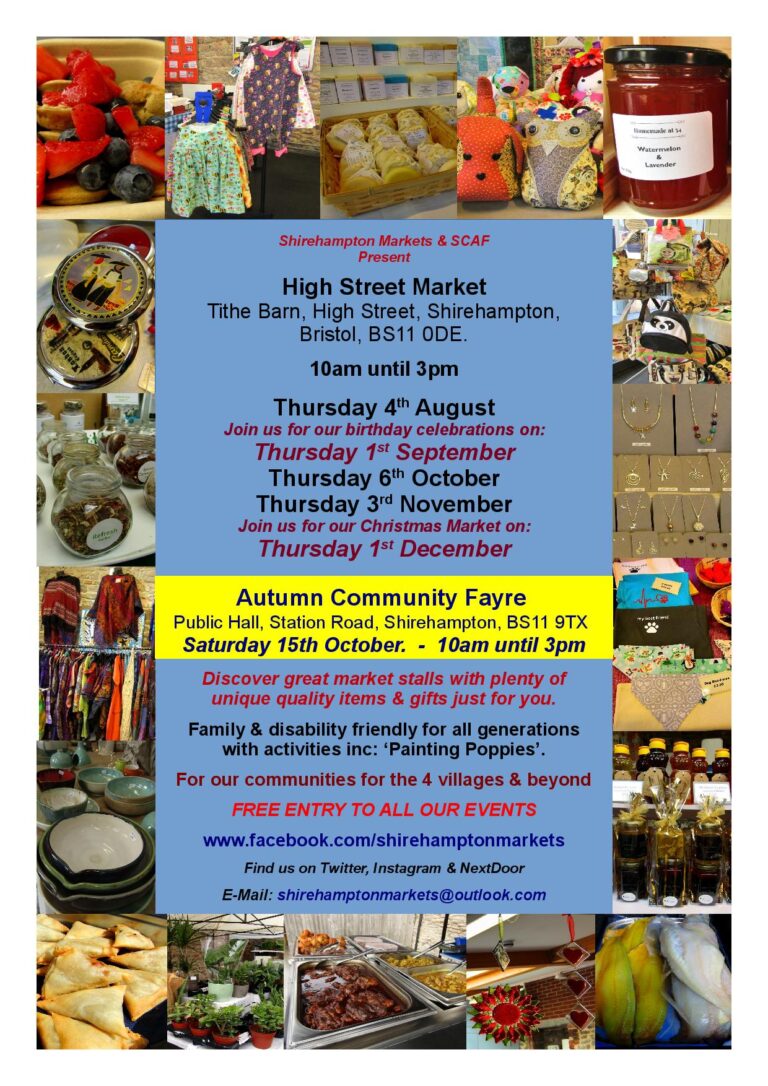 Regular monthly community market – held on the first Thursday of every month – for the 4 villages and beyond. All welcome, wherever you live and free entry to all our markets too. Welcoming, enjoyable, social and very much full of community spirit.
The High Street Market provides market stalls selling an exciting range of goods not available on our High Street. Discover and explore our market stalls from our Fishmonger selling freshly caught fish, crab meat, prawns, scallops and local favourite cockles to our garden and plant stall with an amazing selection of vegetable plants, flowers, garden plants, herbs and house plants. We have honey, fresh breads, artisan produce, cheese, real tea, jams, marmalade, cakes, women's clothing & accessories, baby/toddler/young children's clothing and accessories, toys, greetings cards, gift boxes, upcycled and repurposed items being given new life, home ware jewellery, personal care, bags, purses, glassware & decorations, candles, gift ideas, hot food including Sri Lankan, Jamaican, and mini pancakes to eat in at lunch time or take away. Don't forget our Market Kitchen where refreshments are served and where a cuppa and a piece of cake only costs £1 and the conversation is free!
The High Street Market is family and disability friendly and very much intergenerational. We aim to make all our events a safe community hub for all and combat isolation and loneliness regardless of age or circumstances. It is the ideal place to meet up with family and friends and make new ones too. You'll from activities happening from time to time including painting poppies sessions, arts and crafts, colouring books, D.I.Y face painting and the odd table game or two.
This real market is run by volunteers experienced in running community events and more. You'll find many of our items made with love, hand crafted, unique, high quality, at affordable prices. It is a mix of sustainability, environmentally friendly and fair trade.. If you want something different then visit our High Street Market and enjoy your shopping experience with us. Don't forget to tell your family and friends.
https://www.facebook.com/shirehamptonmarkets