Jacques Hann is a volunteer with LinkAge and has been running the cooking sessions called 'Cooking with Friends' for the past eighteen months or so in Shirehampton.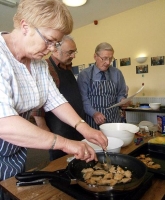 It's proved to be a popular activity within the community and courses last five weeks at a time. They take place at the Penpole Community Centre, The Ridge, Shirehampton and each session usually sees six people taking part and cooking a starter, main meal and a desert. It is very much team work and everybody helps each other out. It's also a fun and social activity where you end up making good friends.
"I find running the classes really enjoyable" said Jacques. "I just love doing them. I love thinking about what we're going to cook, the variety of things. I also enjoy trying to come up with some nice ideas, healthy cooking too. The people who attend the classes are great. Everybody mucks in, everybody does a great job. There's a lot to do in a short space of time but at the end of it we all sit down at the table and enjoy the meal together. At that point we all take it in turns to describe what we've done during that session and what we might have learned and it's a really enjoyable time."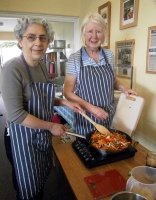 I ask Jacques if 'Cooking with Friends' has helped with people's confidence? "Yes, absolutely, If ever there was someone who was a bit nervous about cooking something, they'd realise after a few weeks they needn't be nervous about cooking for others because it tends to work and people enjoy whatever they make. There are people who haven't cooked before, others who haven't been in a kitchen for a number of years and want to get cooking again. You can be a complete novice but the classes are fun and sociable and there are no expectations. I'm always on hand to help out, explain things and before each class we run through the recipes. Everybody works so well together".
Ray Laver and Ruth Morris have thoroughly enjoyed 'Cooking with Friends'. "I've made new friends, had lots of laughs. I'm sure many have made mistakes with their home cooking just as I've had but I've eradicated them. I haven't burnt anything here and I won't get many points for presentation when at home but I can eat it" said Ray, who is 93 years young. Ruth meanwhile wanted to commend Jacques. "He's great. Jacques keeps telling me not to stress about cooking because I do worry that things aren't going to be done on time. He's very calming."
For further information or to book your place please contact Laura Burchett at LinkAge on 0117 353 3042 or 07930 559 293 lauraburchett@linkagewestofengland.org.uk

Article and photos by Kathryn Courtney