On Monday 17th November LinkAge team members spoke at two conferences in London.
Russell Cowan was at the Campaign to End Loneliness Learning Network Inaugural Event. Russell spoke about LinkAge and the range of support they offer, from drawing people into diverse community activities and reducing psychological barriers to participation to befriending and the ACE project – time limited peer volunteering to connect lonely older people with their community (developed by Bath University). The event compared by Martin Farrell who is the founder and director of Get 2 The Point. http://www.get2thepoint.org/g2p/ and Professor Christina Victor who spoke on loneliness throughout life.
"The main thing that came out of the event for me was loneliness across the life course and how you identify loneliness. Also, there is a real challenge around what the most effective way of engaging and signposting people experiencing loneliness is and then measuring the impact of effective interventions." Russell Cowan.
Claire Miller spoke at the Public Service Transformation Network Conference, Elders as Assets. This was part of their Better Services month. The event was designed to 'discuss and plan how an ageing population can be an asset, how our approach to welfare can influence services and citizens, and the future of cities'.
The event was chaired by Sir Derek Myers who is the chair of the 'Transformation Challenge Panel' and Lord Filkin spoke about the challenge of tackling some of the negative stereotypes around ageing and how these could disempower rather than inspire people to take control and get involved.
There were a range speeches throughout the day including Claire Turner from Joseph Rowntree Foundation and Mick Ward from Leeds Neighbourhood Network Scheme, which were followed by very targeted and focused group work sessions looking at good practice and ways forward for future services.
Claire spoke about LinkAge and how Bristol City Council had worked with partners in Bristol to create an independent organisation that focuses on community development and is a catalyst for positive grass roots change. LinkAge gets people 55+ to; get involved with, active in and take control of local developments around social and physical activity. The positive and aspirational approach of the organisation has won hearts and minds of local citizens who are shaping developments at a community by community level, everything from bingo and belly dancing to table tennis and Tai Chi. The more serious aspects of the work, and enhanced by the outreach work that they do, is that this is all reducing loneliness, increasing physical activity and helps to generate personal resilience, which is really important in later life.
"I have really enjoyed the day today, there is so much fantastic work taking place and these kind of events really help us to all share best practice, enhance what we do and deliver and plan for joined up services across the public, research and voluntary sector. I have made some wonderful contacts today, will be keeping in touch with the network and following up with the people I have met". Claire Miller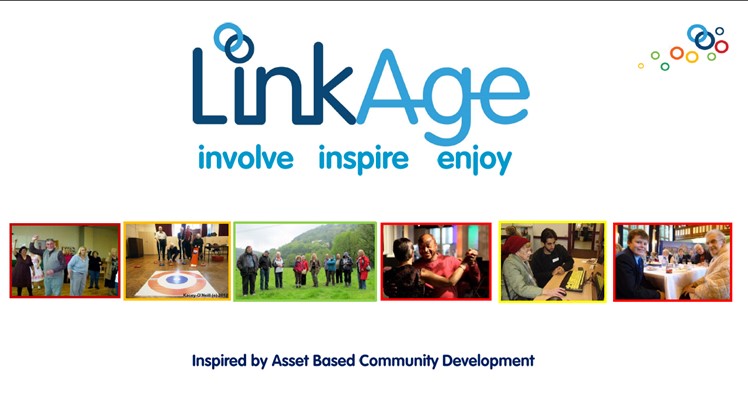 unfortunately the fifth slide was a video and can no be viewed here – to watch a similar video please click here!!