"I wasn't coping with life and didn't want to be here."  Ellen, a much loved mother and grandmother, was going through a difficult time and had become withdrawn.  "I was in a bad place.  I didn't want to go out.  I felt isolated and afraid to leave the house."  Having previously experienced agoraphobia Ellen felt it was coming back but didn't want it to take hold again.  Ellen's daughter took her to see her GP who then referred her to the ACE Neighbours project.
The project, run by Bristol-based charity the St Monica Trust, aims to reduce loneliness and isolation in older people.  Connecting with people and taking part in activities can make all the difference but it can be a bit daunting going out to something on your own so, not surprisingly, most people would prefer to have someone to go with.  This is where ACE Neighbours can make a difference.  A volunteer is matched with an older person experiencing loneliness and together they can try things until the person feels confident getting out and about on their own.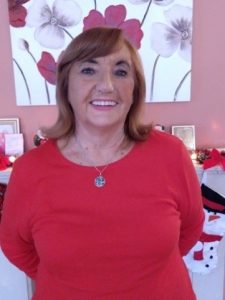 Through the project Ellen was introduced to volunteer Babs.  Babs had applied to join the project as a volunteer on an impulse.  "Volunteering had never occurred to me before!  My daughter showed me the advert and I thought the project was a good idea and then that was that!"
Sharing a strong family focus and both being dog-owners Ellen and Babs clicked straight away.  After the initial home visits, Babs shared a list of a whole range of local activities and groups with Ellen.  As Bab describes, "We went through several different options.  Ellen fancied the walk so we joined the walking group."  Babs and Ellen went on the walks every week for six weeks and Ellen enjoyed meeting people in the group.  It didn't take long for Babs to see Ellen blossom and before she knew it she said Ellen "was up and away!".  Ellen's confidence started to improve: "I got on a bus for the first time in a long time to go to the hippodrome.  I had great conversations with people at the bus stop!"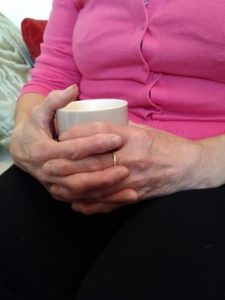 Ellen looked forward to the visits from Babs.  "Going out on the walks was nice; especially meeting new people.  It got me out and I met different people.  I didn't feel like I was the only one with this problem."  But then Ellen developed sciatica and had to temporarily stop going on the walks.  Ellen had plans to start yoga at a local community centre but also had to put this on hold.
Ellen had mentioned to Babs that she liked to receive letters so Babs started sending Ellen little cards through the post.  Ellen would then ring Babs to say thank you and they'd have a chat and catch-up.  "Babs was a lovely lady.  I was in a bad place and couldn't seem to get out of it.  Getting involved in the project helped me get out of that bad place and back on track.  You only have to do it a few times and then you're out in the real world."
Reflecting on her experience of ACE Neighbours, Ellen says: "You made me feel as though there's a future.  And it's not just me – there are other people in the same place.  I'm now back to where I should be. You've brought me out of that dark place."
Do you know an older person (aged over 65) who is experiencing loneliness, is lacking in confidence to get out and about and would like someone to help them choose an activity or two – and go along with them for moral support? If so, get in touch with the project.  The project covers Hartcliffe, Withywood, Filwood, Lawrence Hill and Keynsham but it's always worth getting in touch to see what help is around.
The project is also in need of friendly and enthusiastic volunteers over the age of 60.  Are you interested in supporting someone to connect with things going on in their area for 6 months?  It would take 1 or 2 hours per week initially but this would reduce in time over the 6 months.  Volunteers receive training, on-going support and all expenses are paid.
There are so many benefits for both volunteers and participants.  Everyone gets so much out of it; it's a win-win!
If you'd like to know more about the ACE Neighbours project, contact Catherine on 07817 632963 or catherine.robinson@stmonicatrust.org.uk