If you're aged 15 – 25 or 55+ then we'd like you to join us to plan our Summer of Age Festival 2015 at our next Bristol Together meeting.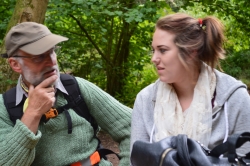 Bristol Together is a group made up of younger and older people who would like to share their skills, knowledge and experience through shaping intergenerational activities. Currently Bristol Together are focusing on planning the Summer of Age Festival.
Last year our Summer of Age Festival was a huge success with activities bringing generations together throughout the Summer. Activities that we ran included cooking, wood carving, bush craft, IT classes and more.
At Aprils Bristol Together meeting you will have the chance to meet new people, have your say and play an active role in creating a varied programme of events for your community and throughout Bristol.
So make sure you put the date of the next meeting in your diary!
Friday 10th April
from 1 – 3pm
at The Princes Trust Offices, Canningford House, 38 Victoria Street, BS1 6BY

To book a place or for more information please contact on rickybush@linkagewestofengland.org.uk or 07807 706 310