Matinee Mingle – Bat out of Hell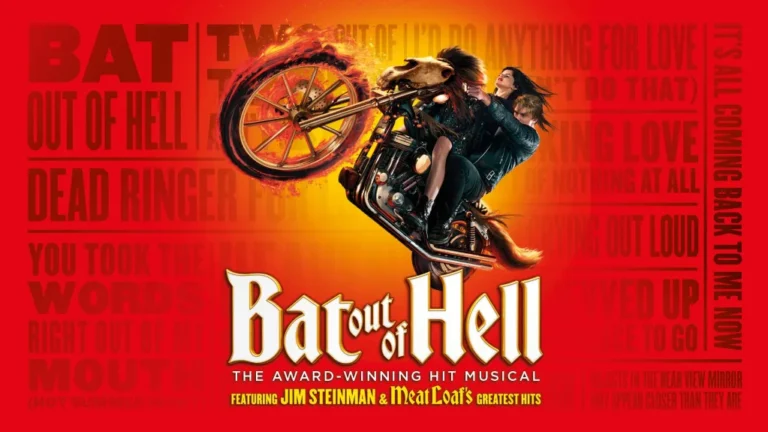 Matinee Mingle; buy a ticket, have a chat, see a show!
Matinee Mingle is a social cafe for local people, aged 60 and over, who would normally visit the theatre alone, to meet like-minded people before a show. The Mingles take place in the Piano Bar next door to the Hippodrome for one hour before selected shows, and participants are offered complementary refreshments and a chat. Tickets for selected shows are advertised as Matinee Mingles and are offered at a discounted price to Minglers (Senior Midweek Discount). We hope that participants will make new friends and see future shows together. 
Matinee Mingle is delivered by the Bristol Hippodrome, Age UK Bristol and supported by National Friendly. 
Please contact Rowan (see contact details below) for the price of the show and to book your ticket. This will ensure you are sitting with other Matinee Minglers.
Bringing to life the legendary anthems of Jim Steinman & Meat Loaf, this critically-acclaimed production uniquely combines the magic and excitement of a musical with the immense energy of rock 'n' roll.
Join Strat, the forever young leader of rebellious gang 'The Lost' as he falls in love with Raven, the beautiful daughter of the tyrannical ruler of Obsidian.
This award-winning wild child musical thunders through powerhouse hits including I'd Do Anything For Love (But I Won't Do That), Paradise By The Dashboard Light, Two Out Of Three Ain't Bad, Dead Ringer For Love and Bat Out of Hell, in an exciting over the top theatrical spectacle unlike any other.
Please note: this performance contains strobe lighting.