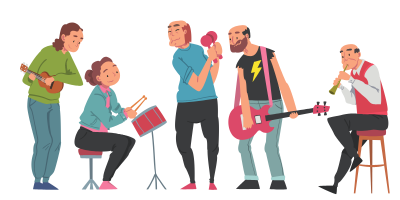 Fancy learning to play an instrument? Or you already play but lack motivation to practice on your own? Do you like chatting about music? We have a FAB Café for you!
Join us to explore musical instruments, learn a thing or two and have a good time among other music lovers, every Friday. Free drinks during July and August – non-alcoholic options only.
Please note, this activity is currently held at the first floor of the pub, if you have any accessibility needs, please let us know in advance to accommodate.
Friends Ageing Better (FAB) is a community where people over 50 share what is happening across Bristol while building relationships with like-minded people who live locally and enjoy special events and discounts.
Friends Ageing Better welcomes anyone over 50 living or working in Bristol to join the network. You can also invite a friend, a neighbour or a relative to enjoy the benefits of membership – it's free! You can sign up as a member here: https://www.ageuk.org.uk/bristol/our-services/fab/